KICK-OFF SCREENING: PRAIA DO FUTURO + SHORT FILM BY CYNTHIA BEATT 21.11.
SCREENING:
FRIDAY, 21.11.2014, 22:30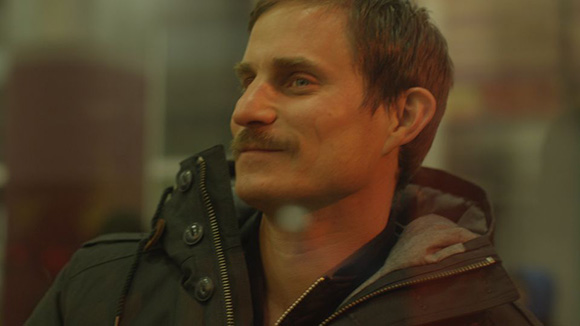 PRAIA DO FUTURO
Brazil, Praia do Futuro, the beach of future hopes – two men in love, riding their motorbikes through the sand, going for a swim. Then completely unexpectedly -one of them drowns. After the German expat (Clemens Schick) has lost his love, he quickly starts an affair with Donato (Brasilian star Wagner Moura). CUT. Berlin in winter, Konrad and Donato walk home drunk in the early morning hours and seem happy. Time has passed; hairstyles, feelings, seasons and places have changed. Karim Aïnouz' exceptional and tender love story premiered in the competition of this year's Berlinale and will finally be shown with English subtitles again. The way Aïnouz portrays Berlin sets the tone for the coming films of the BERLIN ART FILM FESTIVAL – daring, often filmed in wide shots from a distance, defying a tourist gaze and giving an edge to a city that too many filmmakers like to use as a playground for their preposterous projections. Karim Aïnouz' Berlin is raw, beautiful, sometimes unwelcoming, full of secret magic but certainly not a fairy-tale place to be. Clemens Schick, the festival's patron, gives the most intense performance of his career so far – despite the fact that the film cleverly avoids emotional dramatization and melodramatic kitsch and chooses to tell its story in three elliptic chapters instead. A touching, enigmatic and very sexy Berlin art film – not to be missed!
Karim Aïnouz 2014, 106′
languages: Portuguese, German, suntitles: English
BÖSE ZU SEIN IST AUCH EIN BEWEIS VON GEFÜHL/ FURY IS A FEELING TOO
Cynthia Beatt represents another cornerstone of the BERLIN ART FILM FESTIVAL – strong and fearless female filmmakers. 50% of all films in the festival were made by women, and we are proud to announce that we will be showing a total of four films by Cynthia Beatt alone (THE INVISIBLE FRAME with CYCLING THE FRAME, Sunday 07.12., 16:00 and THE PARTY – NATURE MORTE in a loop screening at the festival party at Südblock 06.12. from 23:00 on). FURY IS A FEELING TOO is a wonderful document of a Berlin that has long gone and lives on only in films like these: Shot around Potsdamer Platz which was back then but a vast and abandoned area, Cynthia Beatt and artist Heinz Emigholz perform a theatre of language in different scenarios and locations. They communicate and fight, struggle with language and each other and create a cinematic artifice that is both fascinating and amusing to watch. The 16mm copy of the film was digitalised especially for the BERLIN ART FILM FESTIVAL.
Cynthia Beatt 1983, 26′
language: German, subtitles: English
guest: Cynthia Beatt