EIN PROLETARISCHES WINTERMÄRCHEN / A PROLETARIAN WINTER'S TALE + EIN GESPENST GEHT UM IN EUROPA / A SPECTRE IS HAUNTING EUROPE
SCREENING:
FRIDAY, 05.12.2014, 19:30

EIN PROLETARISCHES WINTERMÄRCHEN / A PROLETARIAN WINTER'S TALE
In a castle on the outskirts of Berlin, two worlds collide: a group of Georgian workers needs to prepare the old glory of the architectual pomp for an art show opening, from which they themselves are excluded. While boredom rules over industriousness in the first of three chapters, class struggles seem to escalate between the haughty and right-wing haves, and the likable have-nots. In the middle of all this, a black hole sucks up the attention and an angry cloud takes possession of one of the guests. Dffb student Julian Radlmaier mixes political theory with a satire on the contemporary art market, and shakes it all up with a witty touch of surrealism. His TALE celebrated its premiere at this year's Rotterdam Film Festival and leaves us anticipating what smart follies he will come up with next.
D 2014, Julian Radlmaier, 63′
languages: German, Georgian, subtitles: English
guest: Julian Radlmaier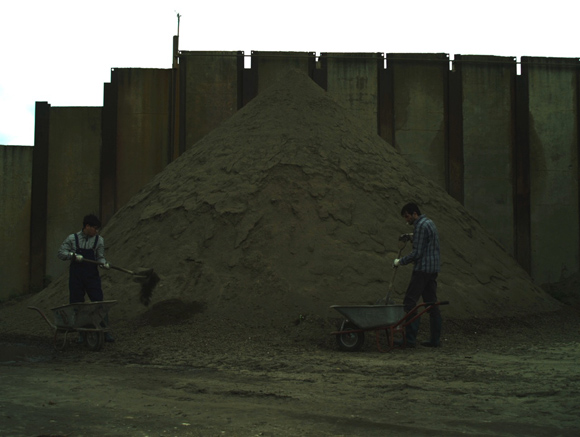 EIN GESPENST GEHT UM IN EUROPA / A SPECTRE IS HAUNTING EUROPE
While French revolutionaries dwell in the summer shadows of trees, some acting students complain about bourgeois Berlin over some beers in the afternoon, after a Russian ghost from the past steals a Malevitch painting from the Nationalgalerie. No, there is no apparent logic that combines the wonderfully shrewd tableaux in Julian Radlmaier's essay on work, art, and filmmaking – but that doesn't matter, since his associative puzzle of unlikely and often quite hilarious situations is a pleasure to watch, whether you reflect on the big arches of history or the weirdness of a film shoot in the here and now.
D 2013, Julian Radlmaier, 48′
languages: French, Russian, Georgian, German
guest: Julian Radlmaier