PERFORMING BERLIN
SCREENING:
THURSDAY, 10.12.2015, 22:00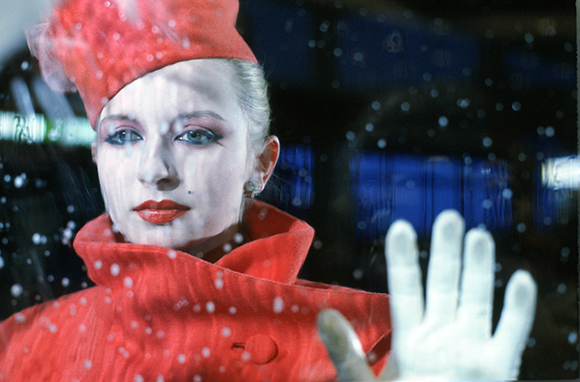 TICKET OF NO RETURN (BILDNIS EINER TRINKERIN)
Ulrike Ottinger's cinematic masterpiece can best be described as an overall artwork, rather than in terms of film. A drunkard, played or rather performed by the to-die-for Tabea Blumenschein, arrives at Berlin-Tegel with one mission: to drink herself to death. "She, a woman of exquisite beauty, of classical dignity and harmonious Raphaelesque proportions, a woman, created like no other to be Medea, Madonna, Beatrice, Iphigenia, Aspasia, decided one sunny winter day to leave La Rotonda…", Ottinger writes about her muse and collaborator Blumenschein, whom she sends on a final odyssey through a West-Berlin populated with outlandish bohemians, poets, artists, lovers and freaks. Visually stunning, idiosyncratic in the best way possible, poetic in style, imagery and costumes, TICKET OF NO RETURN was recently digitally remastered and shines brighter than ever. Don't miss this timeless Berlin art film classic!
Ulrike Ottinger, D 1979, 107 min
with: Tabea Blumenschein, Magdalena Montezuma, Nina Hagen, Kurt Raab, Volker Spengler, Lutze
cinematography: Ulrike Ottinger
languages: German (with English subtitles)
THE DREAM OF NORMA
As part of his "Dancing with queer artists" series, dancer-turn-filmmaker Telémachos Alexiou (AN INTERVIEW WITH AN ARTIST) teamed up with world-famous drag icon Vaginal Davis for this three-channel installation in which Davis is dressed in a dramatic purple gown while Alexiou, covered all in black, appears as a sexy dancing phantom, haunting Ms Davis to the soundtrack of Guem et Zaka.
Telémachos Alexiou, D 2010, 8 min
with: Telémachos Alexiou, Vaginal Davis
cinematography: Tim Schenkl
language: no dialogue
guests: Telémachos Alexiou, Tim Schenkl