BRAVE NEW WAVE: THE DFFB CONNECTION
SCREENING:
SATURDAY, 12.12.2014, 16:00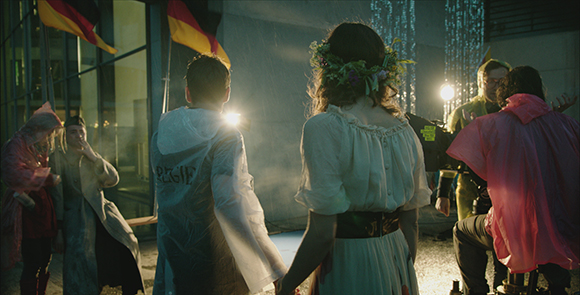 CHILDREN OF THE BUNDESTAG (DIE KINDER DES BUNDESTAGES)
Loosely based on a play by Dostoyevsky, this short tale of disappointed love is set in the middle of Berlin's government district and apparently documents what seems to be a patrotic period picture. German national flags are everywhere, fake rain is pouring, a Gretchen-like actress and majestic camera set-ups are shown only on a second cinematic level, as a film-in-film – a film, in fact, that Anton Gonopolski would very probably never make or care to make, but rather use as a commentary – on historic German cinema maybe, on a film idustry he's not part of, maybe, on conventional pathos-filled films in general – maybe.
Anton Gonopolski, D 2015, 8 min
cinematography: Marvin Kipke
with: Katja Weilandt, Marina Weis, Lüdwig Blochberger, Melina Johanssen, Julian Radlmaier
languages: German (with English subtitles)
guest: Anton Gonopolski, Julian Radlmaier (actor)
UH, IT'S GREAT HERE!
What does it mean for a city like Berlin, and for film students who try to put their creativity to the test, when all of a sudden – after the Wall came down – the entire cinematic center (the Film Museum, the Arsenal cinema, the dffb film school as well as the Berlinale) are relocated into a newly-built no-man's-land called Potsdamer Platz? What kind of inspiration do you get from an architectual ready-made that tries to be New York but just feels like a privatised steel-and-glass wanna-be? Jan Bachmann asks these questions (more discreetly, but not without an opinion or feeling about the status quo of city planning) and puts his protagonists (filmmaker friends like Aleksandre Koberidze, Silvan and Ramon Zürcher, Julian Radlmaier, Tatjana Kononenko, Franz Rogowski) into these commercial environments to give them something they will never have on their own – humour, magic and mystery. A work of creative desperation and a work of art made in the most unispirational spaces you can imagine.

Jan Bachmann, D 2011, 21 min
cinematography: Matilda Mester
with: Aleksandre Koberidze, Franz Rogowski, Ramon Zürcher, Silvan Zürcher, Jan Bachmann
languages: German (with English subtitles)
guest: Jan Bachmann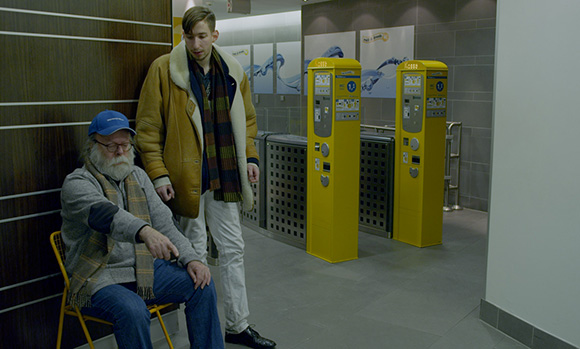 YOU WOULD HAVE TO BE A ROBBER OR AT LEAST A DEMOLITIONS EXPERT
(MAN MÜSSTE RÄUBER SEIN ODER ZUMINDEST SPRENGMEISTER)
In a fully capitalized urban and rural space, creativity for someone with no capital is limited to their Vimeo account. At least as long as they stick to the laws. However, a group of robbers want to break the lethargy and rob a bank. Time passes by and nothing really seems to work. One moves purposelessly through spaces, sells electronic goods or tries to develop iPhone apps to get by. The breakthrough seems already impossible – as the cinematic space begins to dissolve.
(Jan Bachmann)
Jan Bachmann, D/CH 2014, 25 min
cinematography: Matilda Mester
with: Aleksandre Koberidze, Julian Radlmaier, Beniamin Forti, Ludmilla Klarskov
languages: German (with English subtitles)
guest: Jan Bachmann, Julian Radlmaier (actor)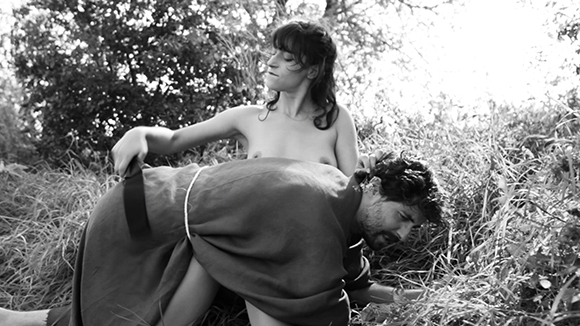 SIMON DE LA COLUMNA
Greek director Telémachos Alexiou continues his elegant and playful reworking of cinematic mythologies with his new short film "Simón de la Columna". It is loosely based on Luis Bunuels "Simón del Desierto" (1965), a fragmentary fable on the priest Simón who lived for 6 years, 6 weeks and 6 days on top of a pillar in the desert, praying for the purification of his soul. His quest for total asceticism is challenged by the seductive promise of earthly pleasures embodied by several amusing characters: a smart priest, a dwarf and his mother, but especially a young beautiful girl who visits him three times in different masquerades persistently challenge the (sexual) resolution of poor Simón.
(Sulgi Lie)
Telémachos Alexiou, D 2013, 25 min (world premiere)
cinematography: Tim Schenkl
with: Athena Mathiou, Uli Ziemons, Lukas Förster, Julian Radlmaier
languages: German (with English subtitles)
guests: Telémachos Alexiou, Tim Schenkl (DOP)

Also see the panel: DFFB – THE WILD ONES. NEW EXPERIMENTS FROM A FILM SCHOOL UNDER ATTACK.