Reading: WHTNACIG PNAIT (WATCHING PAINT) BY SHARON DODUA OTOO
SCREENING:
SUNDAY, 11.12.2015, 19:00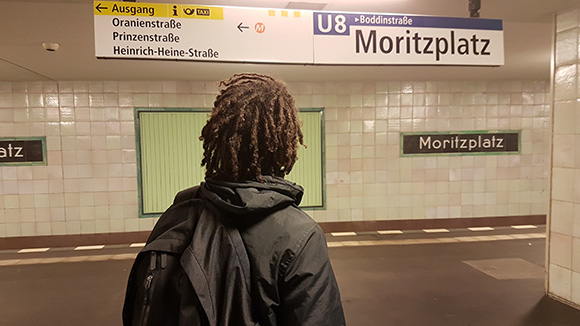 READING: WHTNACIG PNAIT (WATCHING PAINT) BY SHARON DODUA OTOO
A reading with musical and visual support of a Berlin short story by Ingeborg-Bachmann winner Sharon Dodua Otoo. Performance by Lewis Teschner, Tyrell Teschner and Yosime Flood, followed by a talk with Sharon Dodua Otoo.
About Sharon Dodua Otoo:
"I typically describe myself as a Black British mother, activist, author and editor. Black is deliberately written with a capital B. Parenting is the single most important thing I do. With each child I have, I hope to get better at it. Apart from that, I edit the book series Witnessed. The first publication of the series The Little Book of Big Visions. How to be an Artist and Revolutionise the World was co-edited with the curator Sandrine Micossé-Aikins (edition assemblage, 2012). The latest edition of Witnessed, Winter Shorts, was co-edited with the writer, blogger and poet Clementine Burnley (edition assemblage, 2015). Editing is something I like doing a lot. I love writing though. My first novella the things i am thinking while smiling politely was published in February 2012 (edition assemblage). The German language translation die dinge, die ich denke, während ich höflich lächle by Mirjam Nuenning, appeared in October 2013. My latest novella Synchronicity was illustrated by Sita Ngoumou (and again translated into German by Mirjam) appeared in August 2014 and was published in English at the end of 2015 with the title Synchronicity – the original story. I have just won this year's Ingeborg-Bachmann-Prize competition for a story I wrote in German. Amazing. Deeply honoured. And… my favourite book is "Beloved" by Toni Morrison." (https://about.me/sharonotoo)
WATCH A SHORT PORTRAIT FILM ABOUT SHARON DODUA OTOO: HERE.
guest: Sharon Dodua Otoo