DIRECTOR'S PREVIEW – A FIRST LOOK AT BRAND NEW BERLIN FILMS
SCREENING:
SATURDAY, 10.12.2016, 18:00
Three directors offer a sneak peek of their latest, unpremiered works, introducing their films with clips, trailers, and talks!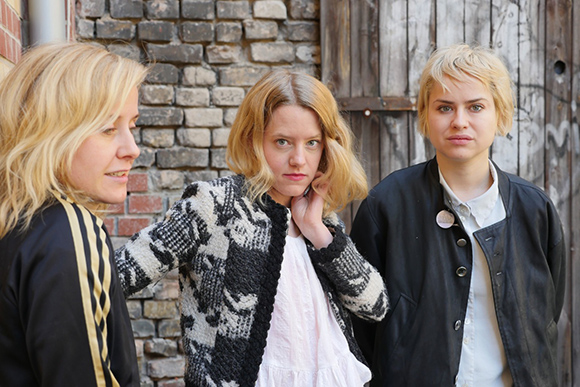 THE LONG SUMMER OF THEORY
(DER LANGE SOMMER DER THEORIE)
"What is to be done?" three women with artistic and creative professions in temporary living conditions are wondering. They are sharing a flat in an old building close to Berlin Central Station. The area is one of the city's last remaining gaps between buil­dings. They decide to end their flat share as soon as the first trenches will be dug.
With mixed feelings they are heading towards the time when their spontaneous life comes to an end, which means they have to make one or more (life) decisions eventually. The current flat is a symbol for their own life scripts so far: unformed and all bets are off but it already starts to be uncomfortable. They spend the remaining days in their flat with friends, celebrations, discussions and the strong feeling for the dawning of a new era.
"Der lange Sommer der Theorie" (The long summer of theory) is a collection of staged episodes for a movie the three women are shooting. In a discursive and entertainig way the demand for political action is framed and put into practice. Real authors appear in the movie and reflect the life of the three women on the basis of theoretical, sociological and philosophical texts. That way they review the suitability for daily use of words. At the end of the film the move-out and the departure into political awareness is due "What is to be done?" becomes "Let's do it!"
With Julia Zange, Katja Weilandt and Martina Schöne-Radunski
Irene von Alberti, D 2016/2017 (in postproduction)
More infos (English and German):
http://www.filmgalerie451.de/en/filme/der-lange-sommer-der-theorie/

SELF-CRITICISM OF A BOURGEOIS DOG
(SELBSTKRITIK EINES BÜRGERLICHEN HUNDES)
LOGLINE
A bourgeois dog and former filmmaker confesses how he became four-legged by failing in love, apple-picking and revolution. A political comedy with magic twists.
SYNOPSIS
A bourgeois dog confesses how he was transformed from being a filmmaker to being four-legged: Unable to find financing for his film, JULIAN is forced to accept a job as a seasonal farmhand. At a party, however, he makes the young Canadian expat CAMILLE believe that he's going to do research for a communist fairy-tale film and offers her the leading part. To his great surprise, she decides to accompany him, sparking off Julian's lurking romantic fantasies.
Thus they arrive at the deceitfully idyllic scene of an exploitative apple plantation. While Julian finds the manual labour agonizing and fears the strange roommates in his humble container home, Camille enthusiastically plunges into the alleged research and makes friends with HONG and SANCHO, two credulous proletarians in pursuit of happiness. For Julian, it's getting more and more difficult to act the communist filmmaker. And what's more, a hot-tempered model worker with American dreams gets in his way, a mute monk with magical powers and a screw loose shows up, the owner of the plantation accidentally gets killed, and an attempted revolution ends up in confusion. At this moment, however, the sparrows in the trees come up with an unexpected plan…
Julian Radlmaier, D 2016/2017 (in postproduction)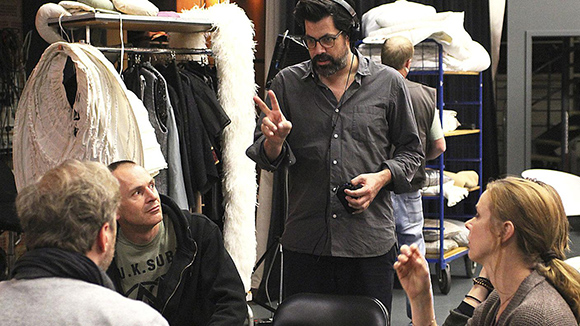 CASTING
Der erfolglose Schauspieler Gerwin hat einen Job als "Anspielpartner" beim Casting einer Filmproduktion ergattert. Das Filmprojekt scheint unter keinem guten Stern zu stehen. Regisseurin Vera träumt von der idealen Hauptdarstellerin und kann sich unter den Bewerberinnen nicht entscheiden, Produzent Manfred verliert zusehends den Glauben an den Film und Casterin Ruth will nicht zum Sündenbock werden. Während Gerwin einer prominenten Schauspiel-Diva nach der anderen die Stichworte liefert, wird ihm klar, dass er selbst auch wieder spielen will.
PRODUKTIONSNOTIZ
Der Fernsehfilm "Casting" ist eine Produktion des Südwestrundfunks. Kamera Jürgen Carle, Schnitt Saskia Metten, Szenenbild Klaus Peter Platten, Kostümbild Birgitt Kilian, Produktionsleitung Dieter Streck. Producerin ist Franziska Specht, die Redaktion liegt bei Katharina Dufner und Jan Berning.
Nicolas Wackerbarth, D 2016/17 (in postproduction)