SATURDAY, December 12th, 14:00
Panel I
dffb – The wild ones
New experiments from a filmschool under attack
The Berlin-based film school dffb has always been a birthplace for new and exciting filmmakers, which is especially true when it comes to new formal directions that are soon likely to be called "schools" by journalists. Thomas Arslan and Angela Schanelec are just two examples of filmmakers with a special view on Berlin (the Berlin School) that the festival has already shown.
But there's a new generation coming, and names like Max Linz (ASTA UPSET) and Ramon Zürcher (THE STRANGE LITTLE CAT) -both represented with works on the first Berlin Art Film Festival – quickly stirred some buzz for their originality and their unconventional cinematic approaches to storytelling and mis-en-scène. Henrike Meyer, Anna-Sophie Hartmann and Micah Magee are other examples of daring new filmmakers who prioritise artistic freedom over commercial or conventional formats.
This year, the Berlin Art Film Festival shows three new(er) works by Jan Bachmann, Anton Gonopolski, Julian Radlmaier, and Marcin Malaszczak, and assembles them on a podium to discuss their approaches and their motivations behind their often experimental films. Does it makes sense to call them a group or not? Does they cinema stand for something or is it maybe even directed against a traditional (German) way of filmmaking?
Frederic Jäger already mentioned some of them in his article "Wunder von Oberhausen: Freischwimmer bei den Kurzfilmtagen 2015 und anderswo", and we will try to follow up on that conversation with the panellists and the audience. The fact that there are no women is on this panel is not the sing the festival wants to sent out, and is mostly accounted for by the fact that the Berlin Art Film Festivals only shows films that are set in Berlin -which is the only reason the above-mentioned, brilliant female filmmakers are not represented in the line-up.
In the second half of the discussion we want to focus on the other, less positive sort of headlines the school has been making recently; seemingly ignorant of dffb student body representatives' concerns, the heavy-handed processes and decisions for selecting the new school president caused some outrage and raised the questions if the students were actually free participants and co-determiners of the structures of the school, or not. Some controversial acts of the school's directors have been made public in various blogs (some trustworthy, some questionable at times) and will give us enough to talk about.
See also:
panellists: Jan Bachmann, Anton Gonopolski, Julian Radlmaier, Marcin Malaszczak
language: German
venue: Moviemento 1
entrance fee: 2,00€
SUNDAY, December 13th, 14:00
Panel II
Imagining refugees and migrants on film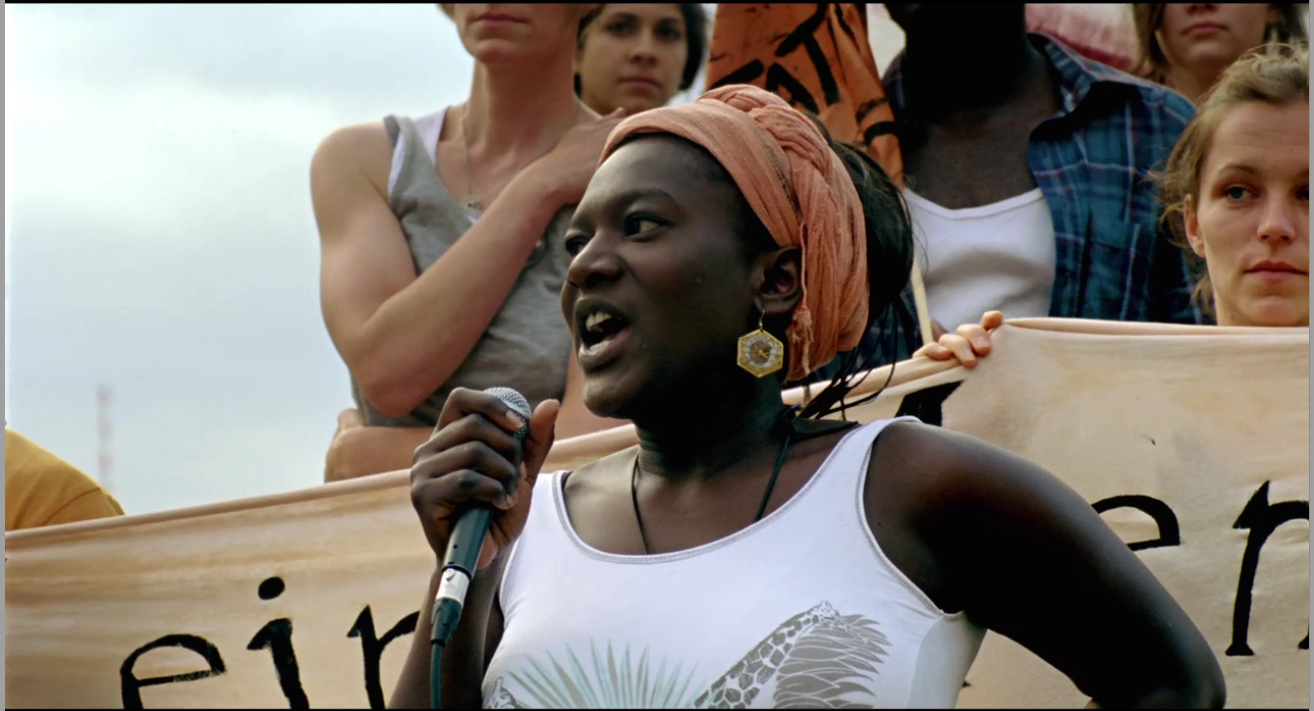 Representation and authorship are the biggest challenges when it comes to the depiction of "others" on film. When we see migrants and refugees on a big screen, questions of who portrays whom for what reason and by which means arise urgently. Under the positively ambiguous title "Filming migrants and refugees" the BERLIN ART FILM FESTIVAL has assembled a handful of innovative and brave filmmakers who approach specific and very current political issues concerning refugees and their stories, and questions of migration in film.
Filmmakers like Felipe Bragança from Brazil and Tami Liberman from Israel choose a collaborative effort and place the camera or the script into the hands of their (refugee) protagonists. Their films ESCAPE FROM MY EYES and NAPPS – MEMOIRE OF AN INVISIBLE MAN, defy classical modes of representation and author/protagonist dichotomies as well conventional forms of narration and visibility.
Khaled Mzher, a dffb film student from Syria, chooses a more straight-forward approach in his film WADA' in which he presents us with a Berlin represented by the spaces of a Syrian diaspora – embodied by his protagonist Ahmad Faraj who arrived in Berlin 20 years ago as a refugee.
German film student Deniz Sertkol on the other hand uses irony to tackle questions of cultural identity, racism, and the status quo of a country that still struggles heavily with questions of integration and immigration. Following up on what was called "migrant cinema" in the 1980s and 90s (mostly produced by second-generation filmmakers from Turkey), Sertkol has produced ambivalent and humorous installation pieces (KISS ME, GERMANY; INSPIRE ME, GEMANY) that circle around questions of national identity and being regarded as "other", in spite of being a native of Germany.
Zora Rux, whose daring short SAFE SPACE deals with the difficult question of an abuse situation inside the refugee camp at Oranienplatz, presents a brilliant discourse film put together from various interviews and personal talks with refugee activists from all sides of the spectrum. Her protagonist Thelma Buabeng, a well-known black German actress, is a great supporter of the film, in which she plays an African refugee with a thick accent. And yet, Buabeng is an activist herself when it comes to the lack of positive roles (and role models) for non-white actors in the German film industry.
Trying to put all these positions together with the help of film clips and little impulse speeches, we are trying to evaluate the status quo of migrant, non-migrant and refugee representations and self-presentions in this panel.
See also:
panellists: Zora Rux, Thelma Buabeng, Khaled Mzher, Ahmad Faraj, Deniz Sortkol, and others
language: English
venue: Moviemento lounge
entrance fee: 2,00€