KICK-OFF SCREENING. (SATURDAY, 05.12.2015)
IN FOCUS: ANNE RATTE-POLLE
SCREENING:
SATURDAY, 05.12.2015, 20:00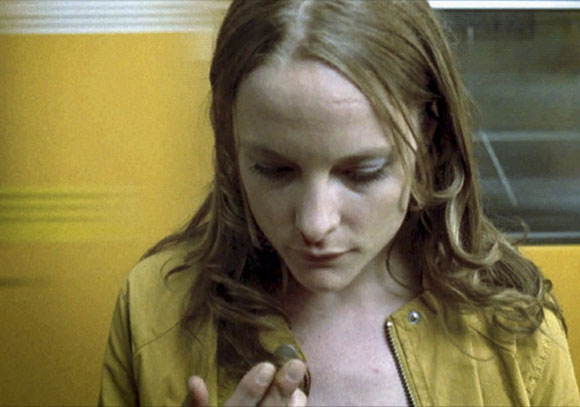 ILLUSION
Anne Ratte-Polle is Lena, a tough ticket inspector on Berlin public transport BVG. She loves her job but takes it a bit too seriously, despite her knowledge of the three rules of ticket inspection. She loses her job but won't stop working. The forceful and physical performance as one of the most hated professionals of Berlin is another proof of Ratte-Polle's variability as an actress and the toughness she can give her characters. Directed by Burhan Qurbani (SHAHADA, WE ARE YOUNG. WE ARE STRONG.), featuring the homeless theatre group "Die Ratten 07".
Burhan Qurbani, D 2007, 7 min
with: Anne Ratte-Polle, Sven Lehmann, Ivo Staack, Fang Yu, Die Ratten 07
cinematography: Yoshi Heimrath
language: German (with English subtitles)
guest: Anne Ratte-Polle
NIGHTSONGS (DIE NACHT SINGT IHRE LIEDER)
Based on the play by Norwegian author Jon Fosse, NIGHTSONGS is an artful and intense drama that focuses on the end of a relationship of a young couple in Prenzlauer Berg (which looked very different when the film was shot). This "Kammerspiel" by renowned German auteur Romuald Karmakar is mostly set inside a spacious apartment and dissects the mechanisms of a passive-aggressive relationship of two people that need to face the fact their common future has come to an end in the face of the burdens of a common child and the unequal share of their finances. Carried by the stellar performance of Anne Ratte-Polle and her screen partner Frank Gierig (who passed away in 2010), NIGHTSONGS is a brilliant analysis of the hardships of planned happiness and a great vindication of the power of actors on a big screen. Shown in 35 mm!
Watch the trailer: Here.
Romuald Karmakar, D 2004, 95 min
with: Anne Ratte-Polle, Frank Giering, Frank Zapatka, Sebastian Schipper
cinematography: Fred Schuler
language: German (with English subtitles)
guest: Anne Ratte-Polle