CLOSING PROGRAMME.
IN FOCUS: ISA GENZKEN
SCREENING:
SUNDAY, 13.12.2015, 21:00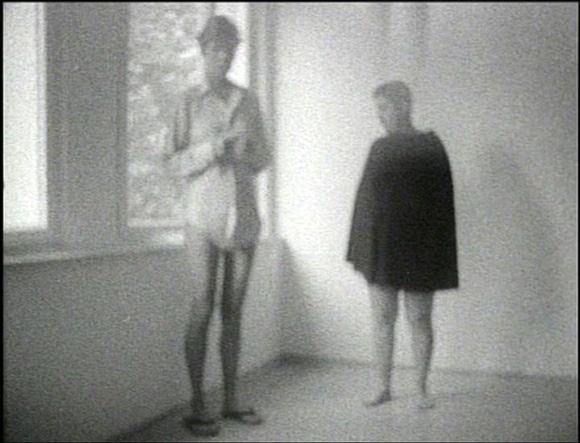 TWO WOMEN IN COMBAT (ZWEI FRAUEN IM GEFECHT)
It is quite unusual to see artist Isa Genzken (who became famous for her gigantic sculptures and is little known for her video art) naked. In ZWEI FRAUEN IM GEFECHT (Two Women in Combat, 1972) the artist takes her clothes off all the time. In fact, the entire film consists of a perpetual dressing and undressing that she performs with her friend Susan Grayson. The joke is that the two women have to share one set of clothing – a skirt, a shirt and a bra. For the next eight minutes they will take turns as to who wears what. […] We see a very young Isa Genzken here – short dark hair, very thin, lanky, who does something she is not at all known for – using her (naked) body as the object for an art performance that is simultaneously preserved on 16 mm black and white film. The women are laughing and talking, but the film is without sound, however, you can still feel the joy of this playful exercise as we watch Genzken smiling and giggling throughout the performance.

Isa Genzken, D 1974, 8 min
language: no sound
Courtesy of Galerie Buchholz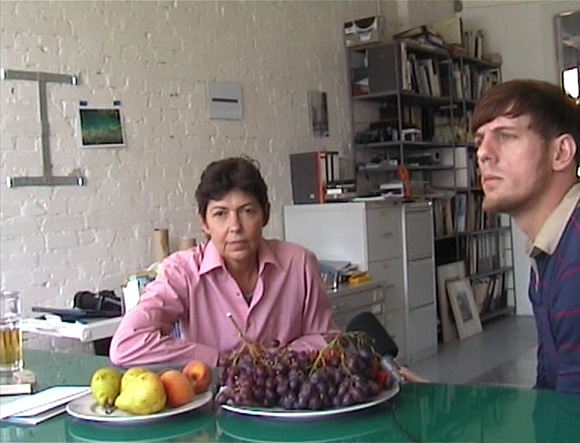 WHY I DON'T GIVE INTERVIEWS (WARUM ICH KEINE INTERVIEWS GEBE)
Isa Genzken and artist Kai Althoff made this hilarious 5–minute improv-interview film in 2003, in which Althoff plays an investigative art journalist and Genzken plays herself. "Giving interviews is the opposite of making art," Genzken says, and answers a question about her approach to modern art with the statement that being forced to answer such questions is the reason she doesn't like giving interviews. Making an interview film about not giving interviews is a good example of Genzken's approach to not taking things seriously while doing just that.
Isa Genzken, D 2003, 5 min
language: German (with English subtitles)
Courtesy of Galerie Buchholz
THE LITTLE BUS STOP (SCAFFOLDING) (DIE KLEINE BUSHALTESTELLE (GERÜSTBAU))
The feature-length film THE LITTLE BUS STOP is a wild comedy of manners which tackles some profound issues of an artist's life in the art world. In one of the more than 20 scenarios in which Isa Genzken and artist Kai Althoff interact and improvise small skits, they talk about the potential political content of art. "What's the use of political art if in the end it gets bought by rich people anyway?" Genzken asks, slightly intoxicated. She adds that all art might be political, but never works as political art if it's given a clear political intention. In a different skit, Genzken lies in bed, wine bottle close by, and doesn't want to be part of her own exhibition opening because she doesn't want to meet "all those arseholes." […]
THE LITTLE BUS STOP is one of the campiest, wildest and queerest film extravaganza since the early John Waters. Using low-key, no-budget camera aesthetics, Genzken and Althoff open up their Pandora's box of bad taste and gender bending and find themselves in new roles and settings every few minutes. At first they are two hookers who hang out in a hotel room and discuss the sexual preferences of their customers and the liberties and restrictions their job entails.[…]
Later in the film, Genzken and Althoff will impersonate homeless people, cops, a hotel guest and a servant, two men playing the piano (one chain-smoking, one asthmatic) and two babies who watch food flying over their heads. The cultural and subcultural references go from Absolutely Fabulous to Buster Keaton to Pink Flamingo's Egg Lady and beyond. Highly Enjoyable!

Isa Genzken D 2012, 70 min
language: German (with English subtitles)
Courtesy of Galerie Buchholz
all texts: http://sensesofcinema.com/2013/feature-articles/film-as-art-and-art-as-film-the-cinematic-concept-in-isa-genzkens-art-practice/
Tickets: https://www.kinoheld.de/Kino-Berlin/Moviemento%20Kino?showId=1451173547